SEE NU LASH BEING WOVEN BELOW, CLICK ON VIDEO LINK AND SEE RAY LUM RED ON THE LOOM
Infinity Nu-Lash on a Spider Frame Backdrop
Click link below to see Ray Lum Red being woven...."from my factory to your show"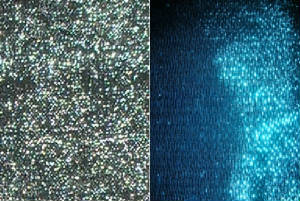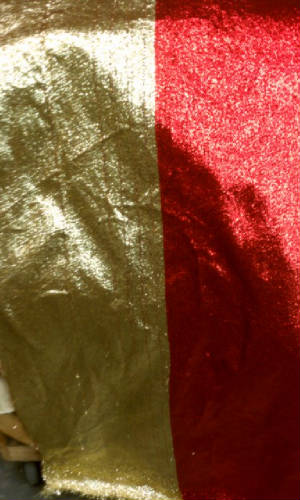 NU LASH
BACKGROUND MATERIAL...We are the only manufacturer and supplier of NU-LASH Backdrop Material in the world!!!!!
The four most popular colors are ROYAL BLUE, SILVER, RAY LUM RED AND GOLD but we also offer it in 30 different custom colors!
We now have Nu Lash in Hologram colors!! What a awesome addition to any professional show! Just an amazing array of colors when lit properly!!
Just added......Ray Lum Red (stocked)!
Here is what Sean Bogunia (creator of the Ultimate Dancing Hank) has to say about Nu-lash.
"Having the right backdrop fabric and lighting can be very important for any effect that involves the use of thread. The type of fabric that I use is called "NU-LASH". It is a metallic weave fabric that reflects light and works well to hide thread. The color I use is Royal Blue! 54" wide, 100% polyester, Can be fire retarded to pass NFPA 701 (fire code for drapery products in a commercial enviroment) for an additional $4.50 yd. Great for all thread work (Dancing Hanks, Floating balls, etc).
Nu-Lash has been ordered by some of the biggest names in Magic. Recent orders have come from KIRBY VAN BURCH for his Theater in Branson MO.
Perfect for Portable Backdrops like the Spider Backdrop or Abbotts Jet Set to the largest
Theaters.
Use what the Pros use....... NU-LASH